THE "UNTITLED HANK WESSELMAN PROJECT"
(AKA THE "SPIRITWALKER PROJECT")
BASED ON THE BEST-SELLING TRILOGY
(& SUPPLEMENTAL MATERIALS)
BY DR. HANK WESSELMAN
ABOUT HANK

:
Research paleoanthropologist Hank Wesselman, PhD did his undergraduate work, as well as his Masters Degree, in Zoology at the University of Colorado at Boulder, then went on to receive his doctoral degree in Anthropology from the University of California at Berkeley. A native New Yorker, he has spent much of his life living and working among traditional tribal peoples and served in the US Peace Corps in the 1960's. It was then that he first became interested in indigenous spiritual wisdom. Since 1971, his research has taken him to the fossil beds of Eastern Africa's Great Rift Valley (where they found "Lucy") in search of answers to the mystery of human origins. That's where the visions began. He has been teaching shamanic workshops since 1991. Dr. Hank Wesselman ("The Chief") left this world on Monday, February 15, 2021 to continue his adventures into the Worlds beyond time and space.
You can read more about Hank on his website: SharedWisdom.com
DR. HANK WESSELMAN'S FAMOUS TRILOGY is in development as a streaming series with Lisa Rhyne as one of the producers. This exciting project will employ mostly indigenous Hawaiians – in front of and behind the cameras and be filmed mostly, if not entirely, in Hawaii.
THIS HIGH ADVENTURE ACTION FANTASY DOCUDRAMA INCLUDES:
history and future of Hawaii and the Hawaiian people
the fall of Western civilization as we know it
magic, mysticism and meaning
genuine Hawaiian Kahuna mystics and Hawaiian mysticism teachings
our current climate catastrophe/global warming
disclosure
classic "Hero's Journey"
supernatural action packed adventures and quests
an odyssey of discovery
origin and the destiny of our species
the keys to personal power and the healing of all humankind
true phenomenon of spirit possession/shared consciousness
greater truths of the ʻAumākua
the unlimited power and potential of human consciousness
conveyance of the souls of the dead
power, protection and support from the Spirit world
authentic shamanic time travel (between past/present/future), and
the mysterious Source of all existence and the Great Mystery
And it is a true story shared by those who lived it.
Hank's dynamic interactions with Nainoa give us an intimate look at modern day kahuna spiritual wisdom (that's not limited to just Hawaiian peoples – as Hank was a born and bred New Yorker) . Their amazing visionary voyages finally bring them face to face with each other and with the mysterious Source of all existence and the Great Mystery.
Will this hero's journey result in triumph or tragedy for all humanity and the entire planet? Will people listen or is it already too late? Is there such a thing as predetermined "fate" or can civilization's destiny 5,000 from now be altered by us today?
Will we do nothing and let Western Civilization, as we know it, fall and disappear like countless prior "great civilizations" (such as the Inca/Mayans, the Roman Empire, the Egyptians and who knows how many others)?
Perhaps mankind cannot change our foreseen fate nor break the apparent cycles of the rise and fall of human civilizations. But what if we can make enough of a positive difference (by utilizing the information the Hank and Nainoa worked so hard to share with us) that we create a better outcome? Those who know and understand Shamanism know that nothing is set in stone and the mere act of focusing your attention on something changes it (The Observer Effect is a well known metaphysical/quantum physics precept).
Unbeknownst to many, Hawaiian Elder and spiritual leader, Hale Kealohalani Makua ("Makua") was a dear friend and very involved with this project and the work (and he still is ~ as are Hank, the Ancestors, Descendants and many others in the seen and unseen realms). There are supplemental materials never before revealed outside of Hank's most inner circle or published anywhere that are being incorporated into this project in conjunction with the original books. All of this information and what's happening is, in a word, astonishing! We always recommend reading all of Hank's works. The trilogy in conjunction with THE BOWL OF LIGHT: Ancestral Wisdom from a Hawaiian Shaman, is life changing for all those who explore and life this shared wisdom.
A NOTE FROM LISA RHYNE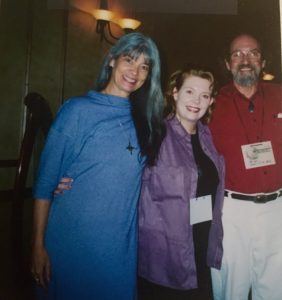 Jill Kuykendall, Lisa Rhyne and Hank Wesselman
at The Prophet's Conference in Sedona, AZ (2003)
Hank and Jill had many discussions with me with regard to the supplemental materials that go along with the initial trilogy. I'm not going to get into who we are in talks with as it is too early in the development process and so much can and will change in the blink of an eye. Right now, all our focus and energy is in development so there will not be a lot of posts online. When the appropriate time comes, we will let everyone know what's happening. Please keep all of us in your prayers and highest thoughts for manifesting this in the right way in whatever way that may show up. Divine timing is always key in everything. Please connect with us on via the social media links and check back here for updates. Thanks everyone! ~ Lisa Rhyne

SPIRITWALKER: MESSAGES FROM THE FUTURE
Socially urgent and disturbingly prophetic, Spiritwalker has a universal mythic resonance and an undeniable relevance for today as it challenges our perceptions of our world. our reality, and our future.
An astonishing true story of an anthropologist's quest into a world of magic, mysticism, and meaning. Not since Carlos Castaneda's tutelage under the Yaqui Indian guide, Don Juan has there been a spiritual autobiography quite like Spiritwalker. Hank Wesselman's incredible true story begins with a series of vivid dreams he had while living on the flank of an active volcano in Hawai'i. Eventually Dr. Wesselman became convinced that what he'd experienced were not merely dreams but a visionary encounter with what shamans have long called the 'spirit world.'
In this world, he met a fellow traveler, a Hawaiian kahuna mystic named Nainoa. What did Nainoa seek from Dr. Wesselman? What did the anthropologist have to learn from this exotic traveler from another time and place? Maintaining his scientific objectivity, Dr. Wesselman embarked on a mystical journey beyond the boundaries of ordinary consciousness. The result is a fascinating adventure, an exciting discovery, and the story of how a hard-headed scientific realist may have stumbled on an important piece in the puzzle of human evolution.
REVIEW OF SPIRITWALKER
"What a fabulous, stunning, inspiring account! This book explodes our narrow ways of thinking about the nature of the mind, and reveals consciousness as it really is — unbounded, beyond brain and body, infinite in space and time, divine. Wesselman is a bold visionary and a courageous scientist whose mission is to find and reveal Truth. Spiritwalker is a modern hero's journey. It is the story of someone who risks everything, and whose wisdom and acts of courage may help redeem us." — Larry Dossey, M.D. Author of Healing Words: The Power of Prayer and the Practice of Medicine, Meaning Medicine, Recovering the Soul

MEDICINEMAKER: MYSTIC ENCOUNTERS ON THE SHAMAN'S PATH
In the brilliant visionary tradition of Carlos Castaneda, anthropologist Hank Wesselman first documented his spiritual journey in the internationally acclaimed SPIRITWALKER. His travels through the spirit world continue in this astonishing book, leading us into the heart of one of the greatest mysteries of existence.
Dr. Wesselman's inspiring quest began with a dramatic spiritual encounter on the island of Hawai'i in which his mind was brought into connection with the consciousness of another man named Nainoa, a kahuna initiate and fellow mystic traveler. Though he feared his connection to Nainoa would be severed when he moved to San Diego in 1989, in the year that followed, he experienced a trance of intense, exquisite clarity in which his mind once gain merged with that of Nainoa.
It became obvious that their odyssey of discovery had just begun, and the true purpose of their profound yet cryptic contact began to take shape. It became apparent that Wesselman had gained access to some inner doorway, putting him in the presence of a transcendent life force and intelligence. On the threshold of a dazzling new understanding of nature, he was a shaman in training, an initiate into the sacred, secret healing powers of the spirit world.
This remarkable book also takes us on an expedition to Africa and gives us an unprecedented glimpse into the origin and destiny of our species. Hank Wesselman has brought back from his extraordinary travels an extraordinary message: the keys to personal power and the healing of all humankind.
REVIEWS OF MEDICINEMAKER
"Hank Wesselman is that rare combination of visionary and scholar whose message has the ring of truth, clarity, and urgency. MEDICINEMAKER is anchored in personal experience, not fantasy. It is a thrilling journey that challenges our complacent assumptions about reality."
— Larry Dossey, M.D., author of Prayer is Good Medicine
"An engaging personal narrative of spontaneous non-ordinary experiences bridging 5000 years by paleoanthropologist Hank Wesselman, whose earlier book, Spiritwalker, set the stage for sharing his new inner adventures." — Michael Harner, Ph.D., author of The Way of the Shaman
"MEDICINEMAKER is Hank Wesselman's eloquently written, courageous true account about a scientist turned shaman who travels 5000 years in the future. It is a powerful testimony to the timeless connections between spirits and our intuition that binds us all together with love." — Judith Orloff, M.D., author of Second Sight
"Wesselman's dramatic story continues and unfolds in a way to inspire us all." — Sandra Ingerman, author of Soul Retrieval: Mending the Fragmented Self, and A Fall to Grace
"MEDICINEMAKER is vibrant, beautiful, and intimately written. This book is the wake-up signal humanity has been waiting for and is one of the most important books you can read in your lifetime." — Gay Luce, director, The Nine Gates Mystery School

VISIONSEEKER: SHARED WISDOM FROM THE PLACE OF REFUGE
In the third remarkable book in the Spiritwalker trilogy, Dr. Hank Wesselman reveals what it means to be a scientist, a mystic, and a medicine man in an age of high technology and super science. In Visionseeker, he casts light on the emergence of a modern Western Shamanism, the phenomenon of spirit possession, the conveyance of the souls of the dead, authentic shamanic time travel, and the true nature of the human spirit. His ongoing connections with Nainoa give us an intimate look at kahuna spiritual wisdom, and their amazing visionary voyages finally bring them face to face with each other and with the mysterious Source of all existence.
And in the years since these 3 books were published, Hank and Nainoa stayed connected, continued there journeys and discovered the ultimate truth about their mysterious connection through 5,000 years (and outside of time as most know it).
The truth about who Nainoa is, who Hank is, how and why they are connected…will shock many! And hopefully this true story will awaken many to some greater Truths that do exist regardless of your awareness or understandings of them. Now is the time to look to our Elders, the Wisdom Keepers, Shamans and those who are here to be of service to humanity and the entire planet.
REVIEWS OF VISIONSEEKER
"Well written and suspenseful. Hank Wesselman's Visionseeker rivals the works of Carlos Castaneda." — Michael Harner, PhD., author of 'The Way of the Shaman' and director, the Foundation for Shamanic Studies.
"Visionseeker is a fabulous exploration into the reaches of consciousness, a glimpse into the possible evolutionary future of the mind. Anthropologist Hank Wesselman is an expert guide who fully realizes that he is playing with scientific and spiritual dynamite." — Larry Dossey, MD., author of 'Reinventing Medicine' and 'Healing Words'.
"Hank Wesselman's trilogy of his explorations in authentic shamanic time-travel represents an extraordinarily exciting contribution to the worldwide paradigm shift taking place in our time. Combining the sober objectivity of a trained scientist with a mystic's passionate search for deeper understanding, Visionseeker contains further fascinating revelations of the generally secret teachings of the Hawaiian kahunas." — Ralph Metzner, PhD., author of 'The Unfolding Self' and 'Green Psychology'.
"Visionseeker is an exhilarating, aesthetically lovely adventure, and a mind-expanding portent of our possible future. What raises the hair on the back of my neck is the flexible consciousness of this shamanic anthropologist, living life unconstrained by a local personality. Hank Wesselman's Spiritwalker Trilogy has changed my way of living in time." — Gay Luce, PhD., director, the Nine Gates Mystery School.
"Hank Wesselman is a courageous anthropologist who explores the realms of spirit and consciousness to give us an expanded vision of the world. Visionseeker will challenge the limits of reality." — Dr. Judith Orloff, MD., author of 'Dr. Judith Orloff's Guide to Intuitive Healing' and 'Second Sight'.
"Hank Wesselman shares his brilliance with us in Visionseeker as he takes us on the intriguing journey of his own spiritual evolution." — Sandra Ingerman, author of 'Soul Retrieval: Mending the Fragmented Self'.

THE BOWL OF LIGHT: ANCESTRAL WISDOM FROM A HAWAIIAN SHAMAN
In the oceanic islands where the flow of primal energies has created unparalleled natural beauty, one of the world's most advanced spiritual cultures remains largely unknown to the West. With The Bowl of Light, Hank Wesselman offers a privileged and intimate view into the mind of an authentic Hawaiian kahuna—for the time has finally come for the world to hear the wisdom that this profound tradition offers.
As modern interest in indigenous wisdom grows, more and more spiritual seekers are turning to Hawaiian shamanism for its remarkable ability to reveal our inner divinity to us. With The Bowl of Light, paleoanthropologist Hank Wesselman, PhD, provides a rare glimpse into the heart of this tradition as he unveils the teachings passed down to him from the great Kahuna elder, Hale Makua. Before his passing, this revered shaman and wisdom keeper granted Dr. Wesselman permission to share sacred spiritual knowledge seldom imparted to outsiders, including:
The "Bowl of Light" — the vessel for our divine essence and how we must care for it to sustain our natural radiance

Rare descriptions of rituals used by Hale Makua for communing with nature, receiving wisdom from the spirit world, purifying our consciousness, and more

The Ancestral Grand Plan — exploring the path our ancestors set in motion millennia ago and how the Plan is playing out across the world today

The three directives of the spiritual warrior. Makua,

"As spiritual warriors, our path is narrow, and it is constrained by three kapus, three sacred directives. Since you have reached that place of knowing, I can offer these three kapus to you…"



Love all that you see, with humility.
Live all that you feel, with reverence.
Know all that you possess, with discipline.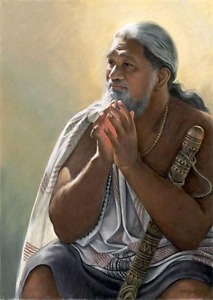 SOME THOUGHTS FROM MAKUA
"It's not the year 2012 that is important. It's 2013," said Hale Makua to a group of students in 2002, as recounted in the book, "For this is when we will begin the next cycle of ages. This means that we have to create a new foundation for the next cycle, and what we decide to build on will determine the spiritual focus as well as our lifeways for much of the next several thousand years."
"We have some hard decisions to make, and we have to make them now," Makua laughed softly. "We are now in the position to create a new world for our descendants, and especially for the next seven generations. This will require a massive shift out of the negative and into the positive polarity, and at all levels of our lives."
WHAT PEOPLE ARE SAYING ABOUT THE BOWL OF LIGHT:
"A fascinating tribute to the life and teachings of a great Hawaiian spiritual warrior. in this literary luau, you'll be fed rich stories of the life in a stone, of why dolphins and whales are keepers of memory, and of why you should put on slippery oil if you are traveling among troubled spirits. This book is a treasure chest of magic that can transform your life!"- ROBERT MOSS, author of Conscious Dreaming, Dreamgates, and Active Dreaming
"Anthropologist Hank Wesselman shares the ancestral wisdom of Hawaiian elder and spiritual teacher Hale Makua with enormous eloquence, grace, precision, and depth. Always the consummate storyteller, Dr. Wesselman braids his discourses with this remarkable man into a powerful narrative that communicates the magical context of their friendship." – NICKI SCULLY, author of Alchemical Healing and Shamanic Mysteries of Egypt
"This book moved me to tears of joy with the depth of its compassionate wisdom and spiritual good humor. A series of philosophical dialogues between Hank Wesselman, a visionary anthropologist, and the revered Hawaiian elder Hale Makua, The Bowl of Light reveals the profoundly beautiful cosmology of the ancient Polynesian, ocean-spanning culture. May it serve as an inspiration for all seekers in our turbulent times!" – RALPH METZNER, PHD, author of The Expansion of Consciousness
"The Bowl of Light provides powerful teachings of deep and profound Hawaiian ancestral wisdom to the ever-growing numbers of students of the mysteries of our ancient world. Another fantastic book by Hank Wesselman!" – LYNN ANDREWS, author of the Medicine Woman Series
"The Bowl of Light is a treasure. Revealing profound principles of indigenous Polynesian wisdom, it gets richer and richer by the page as we look through Hank Wesselman's eyes into a body of knowledge we might otherwise never see, and through it our spiritual understanding and empowerment of ourselves can only deepen." – BROOKE MEDICINE EAGLE, author of Buffalo Woman Comes Singing
PHOTO Gallery
LONO SAYS MORE TEAM MEMBERS
WILL BE ANNOUNCED SOON!