This website is best viewed on larger displays.
THE PHENOMENA GALLERY
The phenomena gallery contains incredibly rare unaltered photos and videos revealing the
Otherworldly phenomena around Lisa Rhyne.
If this is what cameras can capture with their limited technology, can you imagine all the preternatural events going on that cameras cannot record? These are a few samples Lisa is willing to share with the public from her extensive collection. You can also see Lisa working with a client (and her energy's effects on this person on the SOULutions Sessions page).
Otherworldly phenomena have always been a significant part of Lisa's life. This gallery is a collection of incredibly rare unaltered photos that have captured the supernatural phenomenon surrounding Lisa her entire life. They were taken using various equipment and formats, including Polaroid, 35mm film, and digital. Lisa took some, but most were taken by others (unaware of her abilities and not expecting to capture anything odd). She writes about all this in her upcoming book.
An unknown number of photos containing unexplained phenomena were lost because Lisa's mother thought there was a technical problem with the film or the cameras (they owned 30+ cameras of various types). She threw away countless "ruined" pictures, so who knows what was captured on film. Remember, this was the 1960s through the 1990s before everyone constantly carried around cell phones with cameras. There were no special effects filters or programs like PhotoShop used by the general public today.
Also included are just a few security camera videos showing Orbs and "Light Beings/Sprites/???". No one knows what Orbs are, but we understand these phenomena have always existed. The security cameras at Lisa's have daily Orbs and frequent other phenomena. There are far too many to put online. This is only a small sampling to give you an idea of her magical daily life. In the "Orb Storm" video, a lot is going on, and this goes on for several minutes. We posted this short clip and some screenshots because the camera caught Lisa phasing in and out. You can still see her and the headboard behind her as she becomes completely transparent, moves around, then fully phases back into this reality.
"There are several videos of unusual phenomena posted on my website that were taken with iPhones as well as surveillance cameras. They are filled with orbs and other objects, as well as my skin sparkling due to the increasing iridescence of my biology.

Perhaps the creators of The Predator character were tapping into the Field of the actual phenomena of phasing in and out, resulting in what appears to be invisibility cloaking (see the Orb Storm video with screenshots).

Perhaps while writing the Twilight book series, Stephenie Meyer tapped into the Field of the actual phenomena of sparkling iridescent skin and used it as an aspect for her vampire characters – because it was too fantastical for her to believe that this is the true liquid crystalline biophoton quality we all are made of.

Even the white coats are now (re)discovering this truth. When you understand fundamental Universal Laws (that we all are subject to regardless of whether you are aware of or understand them), you empower and free yourself to play even more fully as one of The Dream Masters." ~ Lisa Rhyne
Please note that all content and photos are exclusively owned by Lisa Rhyne are copyright protected.
They are not public domain or for reuse without prior written express permission from Lisa Rhyne.
FOR details, Click thumbnails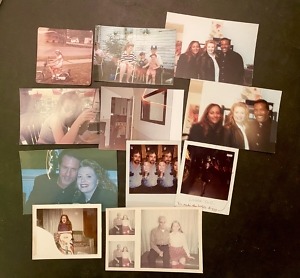 These are the actual physical photos featured in The Phenomenon Gallery. Most don't comprehend the extraordinary aspects and implications of these photos. I hope they'll resonate with you and speak to you in a way that awakens and enlightens you.
In Service, Love & Light ~ Lisa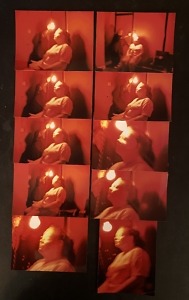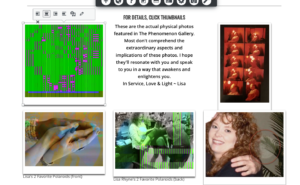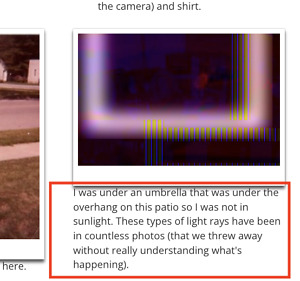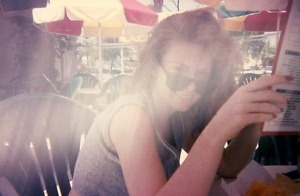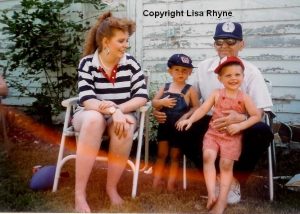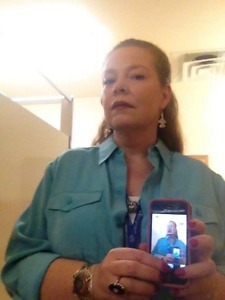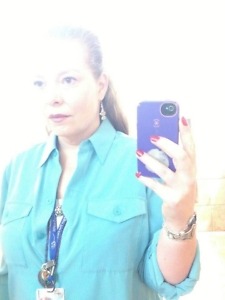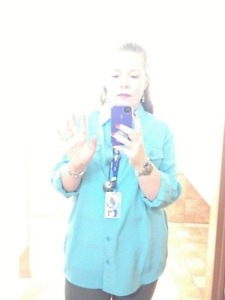 The following 4 screenshots are from the "The Orb Storm" video showing me phasing in and out. Click thumbnail to open in new window.
The following screenshots are from the 2 Light Sprite videos. You can see how this Light Being morphs as well as see its shadow as it flies throughout the room. Click thumbnail to open in new window.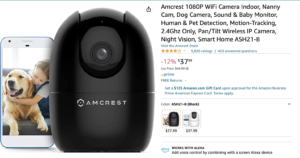 Several people have asked what kind of security camera was used in these security camera videos. I bought this little Amcrest camera on Amazon. That's it, nothing else. ~ Lisa
The following 16 screenshots are from "The Oracle" Sprite video. You can see how this Light Being morphs as it flies left to right across the room. Click thumbnail to open in new window.