SOULUTIONs™ SESSION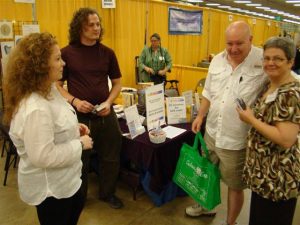 THE GALACTIC EXPO – NASHVILLE, TN (MAY 2010)
Please note that this gallery page
is best viewed on larger screens
like a desktop or tablet.
Lisa was a featured speaker at this expo and you'll notice that The Dream Masters' booth was filled with artwork of the artists TDM represented at that time (Elantu, Francene Hart, Bruce Manaka and others). Sometimes clients (or Lisa) would gravitate towards a piece of art and incorporate it into the 20-minute "mini" session.
All of the artwork in that booth was extremely high energy and the majority of it was sacred geometry. You'll notice the client picked out a couple Francene Hart works – one went under the chair and the other beside it. Art is extremely powerful and outside of "time" so it is important to choose wisely the artwork in your space (home, office, etc.). Many times the clients bought the piece of art they picked out which is also a great way to reconnect on a quantum level to not only the session energy but Lisa as well.
Our Services page talks a bit more about SOULutions Sessions but as the name implies, we look to our Souls for the answers to the current imbalances and problems so we can transform them completely. All clients must sign a release form. Please know that the SOULutions Sessions done at live events are very different than private sessions and we reserve the right to record the live events for our use. We do not use people's names ever unless they specifically ask us to do that.
Please keep in mind that at a live event there is a lot of ambient crowd noise, reduced space to work in as well as event attendees that walk by, stop and watch what is going on in our booth.
We usually have 2 assistants with Lisa at all times to hold the space to help keep onlookers away from Lisa and the client while they are engaged in a session. The assistants record the sessions as well as monitor both Lisa and the client to insure their physical safety. Clients will almost always lose consciousness at some point, move their bodies in extreme ways and can even suddenly drop down. Everyone there is in an expanded state of awareness so they can monitor, anticipate, and spot both the client and Lisa for optimal safety. All are quantumly entangled so it is a very intense experience for all…and even some of those looky-loos just passing by!
Lisa's best friend, Margarete Brandenburg is the assistant in these photos. Margarete is a incredibly powerful therapist and medicine person as well. The gallery below is in sequential order. It was quite special and everyone was transformed. This young man kept in touch and the effects of our quantum entanglement continued to ripple out and manifest changes on many levels in multiple areas of his life long after this session. (Which always happens.)
Please do not use any of these photos for any reason. If you are interested in sharing them (and giving proper credit, please email us for prior written permission. But more importantly, please excuse my crazy naturally curly hair that had a mind of its own on that hot humid stickly Southern day. Also, linen shirts are great…for the first 2 minutes you wear them. I swear I did not just all out of bed and show up (even though it kinda looks that way)!
Thank you! In Humble Service, Love, Grace & Light ~ Lisa Rhyne