about the dream masters
Behind the name stands a dedicated organization of people from all over the world who are fully committed to sharing and manifesting Lisa's vision. This dedication and focus translates into a company that is designed to deliver results. Together we are stronger and make a powerful difference.
Lisa Rhyne's lifetime of work and desire to create and write more positive projects led her to officially create The Dream Masters in 2000 which has evolved into a company that provides several services including, but not limited to: producing a wide variety of informative entertainment projects and services primarily focused on evolutionary, transformational and visionary work which includes: books, highly advanced DNA upgrading through audio and visual programs, writing and producing films, consulting on projects, writing, ghost writing, featured speakers, lectures and seminars, talent management, licensing and publishing as well as personal transformational work through various healing modalities such as energetic work, light and sound therapy, hypnosis, and Shamanic techniques.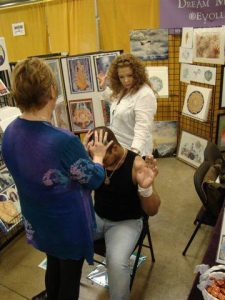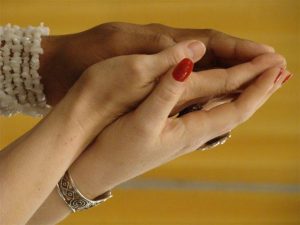 CLIENT PROCESSING AFTER A MINI-SESSION WITH LISA
(ASSISTANT FACILITATOR, MARGARETE BRANDENBURG IN FOREGROUND)
Lisa works with some of the most prolific authors, artists and leaders in the fields of shamanism, quantum physics, multiple ancient and modern energetic healing modalities, psychoneuroimmunology, epigenetics and more. We only partner people with the same ethos as Lisa and the company. We are interested in the spiritual, metaphysical and sacred. We are here to be of service to raise the frequency/vibration through various means focusing on art, music, storytelling and ancient healing modalities.